DANCE AT PHD
All classes at Power House Dance are designed in a structured, fun, learning environment. All our students are given quality dance education and training in a positive and encouraging setting. Students registered into our recreational dance program for the months of September to June will have the opportunity to perform in our Christmas Showcase, the Williamsburg Christmas Parade, and the June year-end recital!
Please see our Events page for upcoming PHD events.
WE OFFER MULTIPLE LEVELS OF CLASSES FROM RECREATIONAL DANCE TO COMPETITIVE DANCE, AS WELL AS VOCALS & ADULT CLASSES.
Creative movement & tiny dancer/ 2 - 4yr
This beginner dance class introduces dancers to the fundamental basics and movement of dance. This class will focus on the development of coordination, fine motor skills, musicality and shows young children the magical world of dance movement through the use of imagery, rhythm, games and ballet technique. Along with creative dance activities students will get an introduction to the basics of ballet.
(Girls: Pink tights, any color leotard, pink ballet shoes, ballet skirt optional)
(Boys: Black t-shirt and black shorts. Black Ballet slippers)
Combination Class / 3 - 10yr
This class is designed for the beginner through intermediate level dancers. These classes will teach the student coordination skills, musicality, basic terminology, and the proper use of muscle development. Children will gain self-expression and confidence while preparing for the next level of dance. Combination classes are designed to allow dancers to develop technique and skills in the dance genres of their choice.
Ballet and Tap ( 3 - 4 & 5 - 7 years old) ~ Ballet and Jazz ( 4 – 6 years old)
Ballet and Lyrical ( 6 – 9 years old) ~ Jazz and Tap ( 6 – 9 years old)
Jazz and Tumble (4 - 7 years old) ~ Tap and Tumble (3 - 4 years old)
(Tan or pink tights, solid color leotard, black tap shoes or black jazz shoes. Bloch Spin II (SO639C) for lyrical class.)
Classical Ballet / 7yr & up
Ballet is the foundation of all dance forms. Body placement, flexibility, balance, alignment, strength and technique are achieved through barre and center floor work. Students will also learn musicality, body placement and quality of movement as well as performance quality. As students develop strength and technique, they advance through all levels of Ballet prior to entering Pointe classes.
(Pink tights, solid color leotard and pink ballet shoes. Ballet skirts optional)
Tap / 6yr & up
A rhythmic combination of technical movements and style, tap focuses on the recall of intricate steps of the foot incorporated with upper body grace. Timing, musicality, and rhythm are concentrated on during class. Tap can be performed with or without the accompaniment of music while still showcasing technical skills and entertainment.
(Leotard or sports bra, tights, shorts or leggings and black tap shoes)
Jazz / 6yr & up
Jazz dance is a uniquely American art form. A variety of styles will be taught from primitive to the classic jazz style. This class concentrates on proper technique, placement, strength, and style as well as increasing flexibility and muscle tone.
(Leotard or sports bra, tights, shorts or leggings and black jazz shoes.)
Lyrical~Contemporary / 6yr & up
This style of dance, popularized by TV's So You Think You Can Dance combines jazz and ballet technique and tells the story of the music through choreographed movement and emotion. Improvisational techniques are also used for the dancer to develop deeper expression.
**Students enrolled in Lyrical or contemporary must also be enrolled in a ballet class.
(Leotard or sports bra, tights, shorts or leggings and Bloch Spin II (SO639C) for lyrical class.)
Hip-Hop/ 5yr & up
This class is great for the student who just wants to come & get funky as well as the serious dancer looking to improve their hip hop skills but even beginners will have a blast in this high energy dance class which introduces basic hip hop and the latest trends. Dance conditioning will be introduced to strengthen the body for more advanced hip-hip training. All movement will be modest & age appropriate.
(Shorts, leggings, leotard, tank top, fitted street clothes allowed; jazz shoes or dance sneakers. *Baggy sweat pants, T-shirts or sweat shirts, combat boot or street sneakers are not allowed)
Musical Theater / 8yr & up
This class is a combination of acting class and jazz dance class. Musical Theatre focuses on the presentation of musical material through lip sync, acting and dancing. Students will learn new material from class and modern musicals and movies. Students get jazz technique along with choreography and stage direction. This performing arts class is perfect for students interested in theatre and drama.
(Leotard or sports bra, tights, shorts or leggings and black jazz shoes.)
Tumbling / 6yr & up
Tumble class is floor tumbling only. Students will learn basic through advanced tumble skills through strength and flexibility training. The use of stations allows students to be engaged the entire class. Different mats and drills are used to learn different skills and progress students through skills such as forward and backward rolls, handstands, cartwheels, walkovers, handsprings and more.
(Leotard or sports bra, shorts or leggings and bare feet)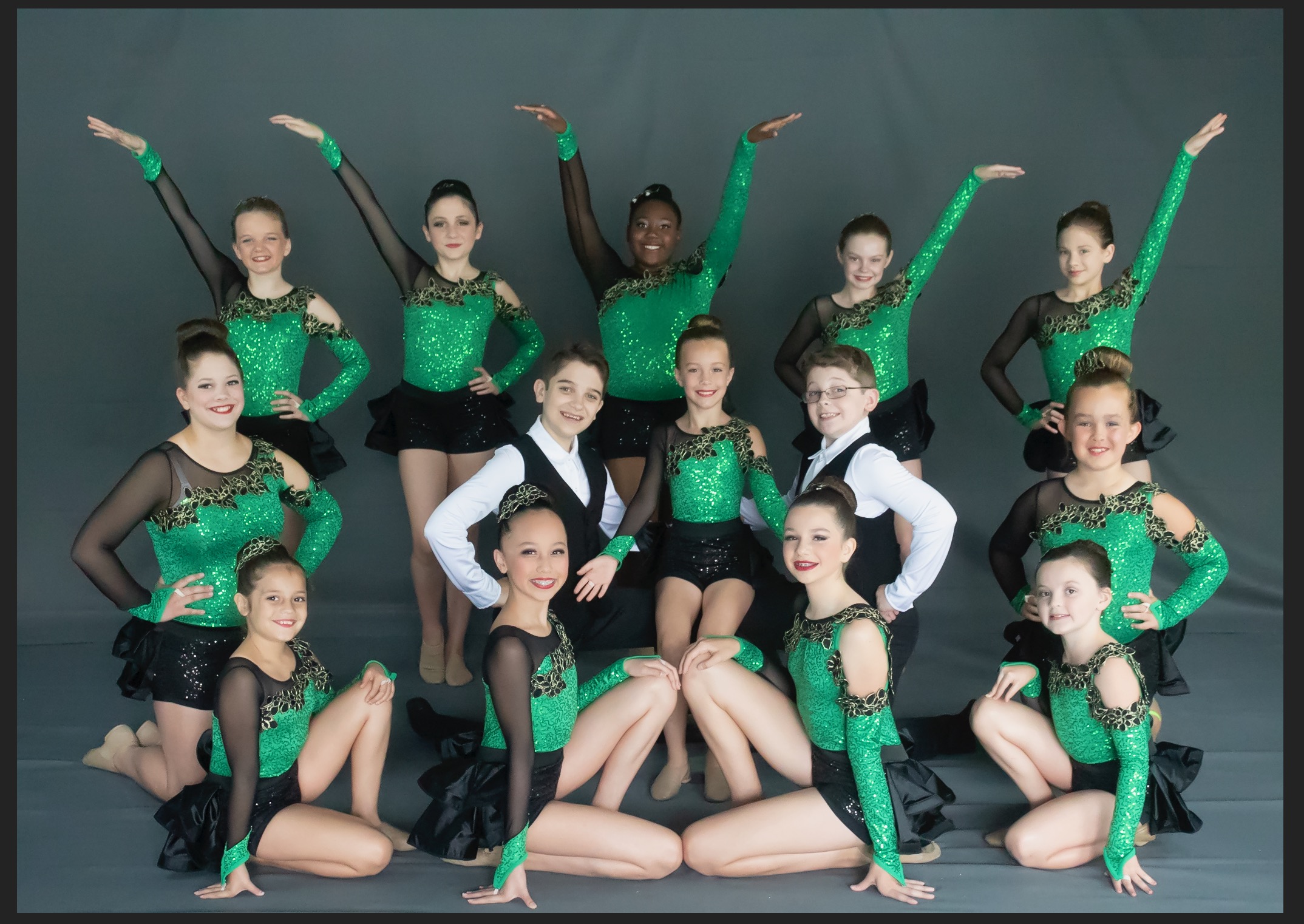 …Power House Dance! It is a technique based school that offers recreational, performance and competition team options. Teachers have dance degrees and create a nurturing and loving environment where children can grow in what they love to do DANCE!!!!."
— Miguel Mudahy, Proud Dance Dad